Want to print fast, stable, and cheap printing equipment? Don't miss this photo machine.Audley8194Photo machine, a mainstream and cost-effective wide format printing equipment.
1.The fastest printing speed of the four-head photo machine
carry4An EpsonI3200Nozzle, indoor and outdoor universal, printing width1.9Meters, maximum print speed135㎡/h, production output85㎡/h.For most AD mills,Omni hora85Square meterIs the most commonly used printing mode. Under different materials, and the size of the emergence value of the case, the printing speed is not the same.In general, every hour85Ping, there is no exaggeration in this statistic. It can make the processing plant work quickly and win more orders.
2. Intelligent high-power dryer ensures instant drying
The printing speed is fast, followed by the drying problem of the picture.
If it can not be dried in time, not only waste printing materials, but also consume ink, and are more likely to be returned by customers, thus reducing market credibility.
Audley8194The equipped dryer provides a strong guarantee for timely drying.
1.High power:
8194Equipped with dryer power up to800-5000WAnd supports segmented drying.
For example, common light box pieces and photo cloth are used914mmand127mmThe size of the back adhesive paper commonly used is914mmand152mmThe size. Then, when printing these materials, you can directly select the corresponding drying mode on the control panel, so that both the drying effect can be achieved and energy consumption can be saved.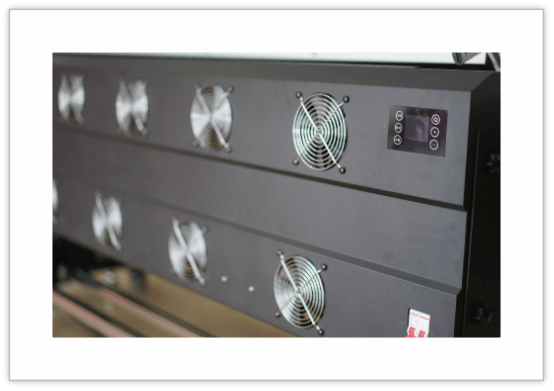 2.Low energy consumption
The dryer supports segmented drying, which can control energy consumption well. In addition,ADL-8194The intelligent drying design, there is also a point that can further save energy consumption.
When some advertising processing plants open several devices at the same time to print, because it is unattended state, if the dryer can not automatically stop when printing stops, it will consume excessive power and increase costs.
whileThis one8194Photo machine equipped with intelligent dryer, when the equipment printing stops, the dryer will stop simultaneously.
The above two points, so that advertisers can achieve high-speed worry-free map.
3. Independent research and development of the board, a wider range of applicable environment
As the core part of the photo machine, the board card is also an important concern for advertisers to choose the photo machine.
Audley8194Photo machine using the board card andI3200The advantages of the nozzle are integrated, combined with the application habits of domestic advertisers and the characteristics of ink, and the most advanced temperature wave technology is developed.
This technology can detect the temperature change during the printing process in real time and realize automatic calculation to match the most suitable driving waveform.
At present, photo machines can be met15℃~30℃In the ambient temperature range, the phone is dialed immediately after starting.
This device also has a device-- Inflatable shaftpost-releasePut the system,More convenient operation.
4. Wide range of applications
Application scenario: display rack, display board, car sticker, light box, poster, decorative painting, wallpaper, photo cloth, oil painting cloth, jet printing cloth, commercial super advertising, reflective film, leather
Compatible with a variety of printing materials, suitable for various industries, a machine to print all kinds of materials, so that users print without worry!
Audley8194Photo machine as a high-speed pioneer in the advertising printing industry, indoor and outdoor printing, mass drawing, equipped4An EpsonI3200Sprinkler head,24Hours of unattended printing,It's convenient and easy. Printing efficiency is equal to other equipment2-4Taiwan has become the favorite of large processing and production enterprises.
Audley photo machine, Indu digital is willing to work with you to create a better tomorrow! National unified service hotline:400-6179998