In recent years,UVThe market share of the mesh belt machine in the printing market is rising. Because it uses a network belt transmission,UVLight curing and drying, so the application field is extremely wide, can print the photo machine can not print materials, such as leather, canvas and so on.
Owned by Audley1.8Meter widthUVMesh belt machine, loadedRicohG6The nozzle, with its atmospheric appearance and advanced configuration, as well as colorful printing effects, has been unanimously praised in the market.

one. A variety of printing modes, showing multiple effects of the screen

two Industry high-end configuration for printing escort
1.8Meters are the mainstream printing width, which can meet the daily demand for a variety of printing materials; Equipment adoptionTHKHigh quiet guide rail, industrial fuselage, stable and durable, smooth operation;UVLamp curing speed is fast, that is, dry, improve work efficiency.
①Standard JapanTHKrail
Standard JapanTHKGuide rail, high stability in high-speed operation, low noise, to ensure that the printer can achieve high-precision output under high-speed printing.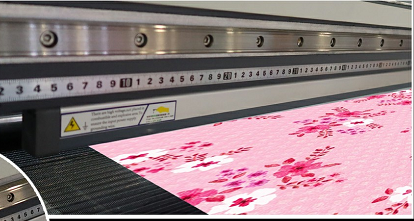 ②Automatic height measuring device
Ink truck automatic lifting, height measurement, scanning anti-collision system
③Independent ink shortage alarm device
When working for a long time, avoid ink emptying, prevent ink breaking, and effectively avoid unnecessary losses.
④Industrial type tow chain
Industrial-grade imported tow chain, anti-wear, anti-reentry can meet international standards, effectively extend the service life of the tow chain and cable.
1800Equipment parameters:

Product advantages and features:
※ XYAxial AC servo motor
※ Japan high precision5Arc division reducer
※ Full format static elimination system
※ Automatic constant tension winding system
※ High quality imported mesh belt
※ Two level ink cartridge constant temperature heating system
※ White ink automatic circulation mixing system
※ High precision large diameter rubber stepping structure
※ JapanTHKHigh-speed silent linear guide rail
※ Anti-deflecting system and belt tension adjustment system
Three. Wide range of applications, one machine multi-purpose super cost-effective
AudleyUVThe net belt machine can be used to print more materials, such as leather, soft film, light box, canvas and so on. The printing picture is exquisite and delicate, and the layers are distinct, which can be applied to more fields.
As the demand for personalization increases,UVThe application market of net belt machine is also more and more extensive. Audley has set up a sales network of agents in many places in the country, to provide users with fast and convenient to buy machines!
Do you understand the equipment information of this network tape machine? If in doubt, you can leave a comment below the article; For more information about other devices, you can also consult the Audley service hotline:400-6179998; Or scan the QR code below: